Click here to view currently available pieces and Purchase on Etsy. If you are local and want to save on shipping you can email us to pick up at the farm.
Espri Bender-Beauregard creates unique wooden spoons and cutting boards from upcycled and sustainably harvested local hardwoods. Each piece is "one of a kind." She designs each utensil and cutting board based on the individual grain patterns and other unique characteristics of every piece of wood. "Flaws" in the wood such as knot holes are used as inspiration – they provide a jumping-off point for creative problem solving. The end result is a unique kitchen tool that is both rustic and finely crafted – functional and sanded to a high polish.
Brambleberry Farm is a small permaculture-based nursery and market farm. We sell fruit, nut and berry plants. We sell plants from the farm by appointment only (we do not have a regular storefront at the farm at this time). We offer consulting services and educational tours of the farm and our strawbale house.
Brambleberry Farm
2 months ago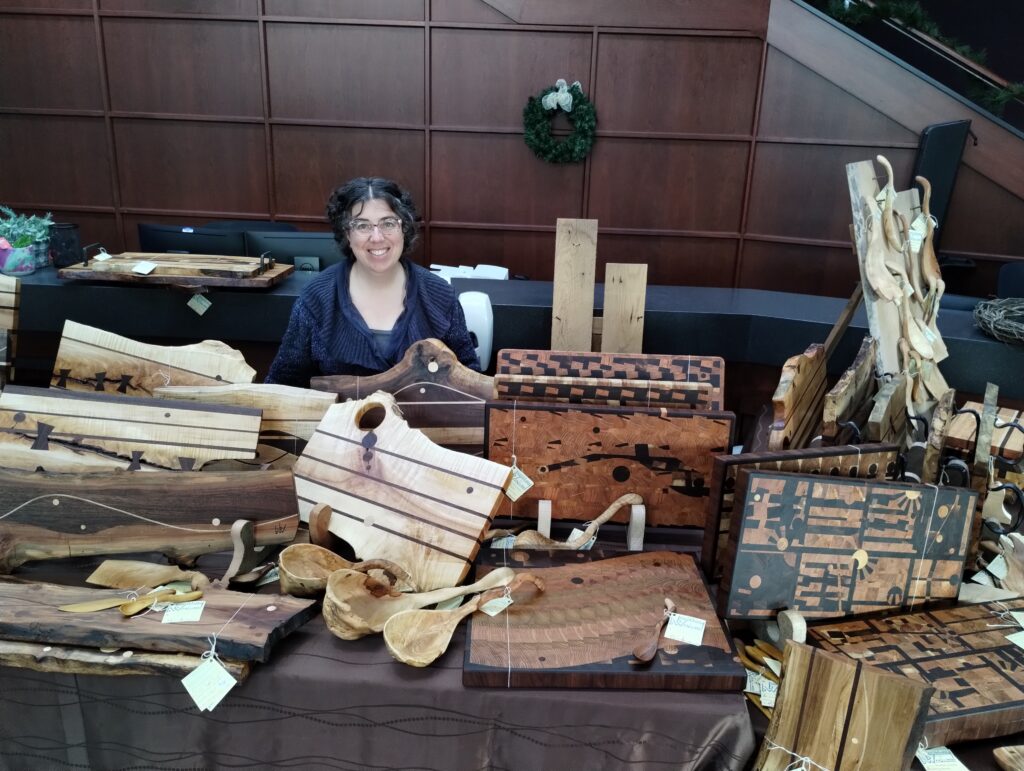 Esprí Bender-Beauregard
b. 1977, Paoli, Indiana
About the Artist
Esprí Bender-Beauregard graduated from Goshen College with BA's in Art and Interdisciplinary Studies in 2001. She and her husband founded Brambleberry Permaculture Farm in 2003, and Bender-Beauregard has found endless opportunities to apply her design skills to the homestead. She designed and helped build the couple's sculptural straw-bale house, handles graphic design tasks for the business, and has built a significant demand for her sculptural spoons, spatulas and cutting boards. Bender-Beauregard's father, Ray Beauregard, is an abstract expressionist artist, focusing on acrylics on canvas, and he worked as a custom furniture maker for much of his life. This legacy has significantly influenced her love of wood as an art medium (and given her the physical legacy of a well-stocked shop!).
Artist Statement
It was largely my interest in environmental issues that led me toward spoons as an artistic outlet. We heat with wood, and a number of years ago we were getting scraps from a local furniture factory to use as kindling. So many of these scraps had really interesting grain patterns and knots that had caused them to be useless for production furniture parts, but which I found much too beautiful to relegate to the fire. Spoons, spatulas and small cheese boards were a perfect use for these short pieces of boards. My supply of wood comes from many different sources now, but I continue to use wood that is "up-cycled" or sustainably harvested. I draw much of my inspiration from the wood itself. I am passionate about wood grain and I let interesting grain features in a board guide my drawing. "Character" wood is a challenge to work with as a carpenter, and is often simply discarded, but I find the challenges of these interesting woods to be inspirational boundaries. I also love the challenges created by function. I've created unique spatula designs that meet my needs for everyday cooking tasks in a more ergonomic manner than commercially made spatulas. My wooden utensils and cutting boards are made to be used. I love art that can be integrated into our everyday chores to beautify and dignify mundane tasks.